It's finished! Finally!
It's been a rough week kids...
It was the first week back in school for all three Munchkins, plus we spent all of yesterday at Riley with The Monkey. She's been having some issues with her scoliosis, poor crooked little kid, and her specialist wanted her to have an MRI just as a precaution, so they could take a closer peek in there and see what was going on... but more on that later.
Right now I'm crowing over my latest finished project thanks to the seven-day sew-along with
Simple Simon & Co.

Look what I made!
It's a School Girl Jumper!
I let The Monkey pick her own fabric. It's just one of those cheapie snuggly cotton flannels from JoAnn's but I can just see it layered over a long sleeved Tshirt & some tights or leggings come fall. It's a full button-down back with a darted front for fit (I opted out of the back darts, Monkey's got some chunk on her and the front darts were plenty to add a bit of shape without bringing it in too tightly). There's a fairly traditional three inch hem on it, which you can't actually see in any of these pictures. Perhaps when she's back in full, Monkey form we'll get a good one of her in it as well. The last thing she wanted to do Monday was model for me. We opted for a lot of snuggling on the couch instead.
You can click the link below for the full tutorial...and be sure to jump around the blog...it's choc full of beautiful stuff.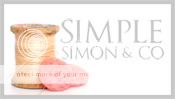 xo